Pathology Residency, Health Science Center
The residency's main location is in the Health Science Center across the street from Sanford Imaginetics.
1400 West 22nd Street
Sioux Falls, South Dakota 57105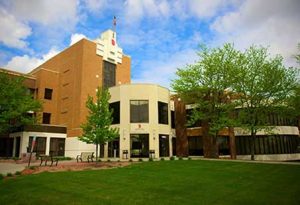 Contact Program Coordinator
Jill Pick
Program Coordinator
I have been employed by USD since January 2012. I joined GME in June 2018. I'm always here to help so don't hesitate to reach out to me.
Favorite places I love to take my dog: Falls Park, Palisades Park, Sertoma Park as well as downtown to view the sculpture walk. I love to go to all the local antique shops and the various summer farmers markets and flea markets. I'm also a concert junkie who loves all the local venues (Premier Center, The District, etc.)
Send Us a Message
Ready to learn more about the USD Sanford School of Medicine's Pathology Residency Program? Fill out the form below and we'll be in touch! We're excited to connect and provide you with additional information about our program.

Your message has been successfully sent!